Betting On Bookings/Cards
Football Bets Explained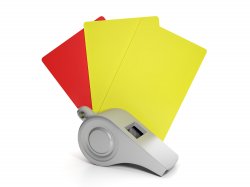 Betting on the number of bookings in a football match can be a great way of making consistent profits, if you know your teams. More often than not football teams play in a distinct style and character, and this often stays pretty consistent, no matter how well they are doing in the actual match.
Teams that play aggressively such as Hull City, will naturally pick up a lot of bookings through out the game, regardless of form or if they are winning or losing. This collection of Yellow and Red cards can offer the punter a certain degree of  consistency which is what we all like in the betting world.
Many of the online bookmakers use a similar points system, but there are variations.
For example most will use the system below –
Yellow Card = 10 points
Red Card = 25 points
But Bet365 for example use the following points system –

Yellow Card = 1 card
Red Card = 2 cards
Betting On Bookings – Bet Types
Total Booking Points
If you are betting on the total booking points of a match then you are betting on the total number of points that are accumulated by both football teams that are playing.
The marker will in most cases be between the 30 and 50 level.
This is a simple bet on the total number of bookings being above, below, or exactly on the marker.
Under 35          5/6
Over 35             5/6
(Exactly 35       6/1)
You could also see it displayed in sections like the example below. Some bookmakers prefer to offer it like this which does restrict the bets, but they normally offer better odds.
Under 21      11/5
21 – 45           2/1
Over 46        11/10
Number of Cards in a Match
Some online bookmakers prefer to just accept bets solely on the number of cards issued throughout the game. This includes both Yellow and Red cards, and once again cards are counted from both teams.
The marker will in most cases be between 3.5 and 5.5, and you can bet either over or under.
For Example
Under 3.5     5/6
Over 3.5        5/6
First Card – First Team To Get A Card
Just like when you are betting on corners you can also bet on which team will be the first to receive a booking card, whether it be a Yellow or Red. There is usually also the option to bet on no cards being issued throughout the match.
For Example
Team A        21/20
Team B         4/5
No Cards     12/1
Booking Match Bet – Which Team Will Get The Most Cards
Another popular bet is betting on which team will receive the most cards.
For Example
Team A        5/6
Team B        8/11
Tie                4/1
Betting On Bookings/Cards Conclusion
Betting on the number of bookings/cards that are given out in a football match is a very popular bet amongst football punters, and for good reason. If you know your teams well or are confident in reading stats and compiling information, there is definitely money to be made and consistent profits to be gained.